HUE – PHONG NHA CAVE 1 DAY TOUR
( Daily departure – – itinerary in 2018)
Price :40$/ pax.
Hue is the city in centre of Viet Nam which was the capital from 1802 to 1945 under Nguyen dynasty. In Hue, there are a lot of sightseeing places to welcome guest al over the world. Phong Nha Cave is a cave in Phong Nha-Kẻ
Bàng National Park, a UNESCO World Heritage Site in Quảng Bình Province, Vietnam. It is 7,729 metres long and contains 14 grottoes, as well as a 13,969 metre underground river. While scientists have surveyed 44.5 kilometres of passages, tourists are only allowed to explore the first 1500 metres(source:Wikipedia). From Hue , You can joy HUE – PHONG NHA CAVE 1 DAY TOUR.
Itinerary:
Morning:
6.10 :Wake up and have breakfast in hotel.
6.30: Pick up guests at the hotel and transfer to and transfer to Quang Binh province by bus. On the way, stop take photos and visit La Vang Holyland.

Continue visisting the Revolutionary historical place-names such as: Ancient Citadel of Quang Tri, Doc Mieu Revolutionary Base, Hien Luong Bridge, Ben Hai River.
11:30 am: Arrive to Quang Binh. Enjoy lunch at a local restaurant at Xuan Son boat station.
Afternoon: Begin the excursion by boat along The Son river to discover Phong Nha Cave and visit dry and wet caves.
15.45: Back to the boat station and turn back to Hue city on Ho Chi Minh trail, via Truong Son martyrs cemetery.
19.30: End of HUE – PHONG NHA CAVE 1 DAY TOUR. .
INCLUSION EXCLUSION
– Bus & Boat trip.
– English speaking guide.
– Entrance fee.
– Mineral water.
– Lunch. – Kayak. – Insurance.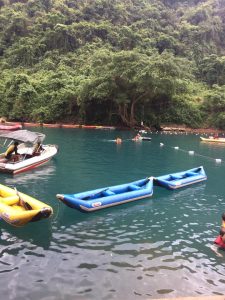 – Tip to guide.
– VAT.
– Bever– – Beverages and personal expenses. – All services not mentioned above.
– A
CHILDREN POLICY PROMOTION
– Chidren under 4 years old is free.
– 5 – 7 years pay 50%.
– Over 7 years pay 100%.
– Get discount 5$/ per person if you book on vietbeautytours.com group of 5 people.
– Get 10% for next bookings of our tours bellow.
Tour routine of HUE – PHONG NHA CAVE 1 DAY TOUR in 2018:
Hotel in Hue – Hien Luong bridge – Ben Hai river – La Vang holyland – Doc Mieu base – Son river – Phong Nha cave.
Note in HUE – PHONG NHA CAVE 1 DAY TOUR:

– You should not be drunk before the day tour.
– You should bring water, hats, sunblock, towels sunglasses and camera.
– The food in tour is set up who is vegetarian please talk to guide to order food.
– In festival day such as : Christmas Days, New Year's Dec 31st, Lunar New Year. Surcharge 10$/pax.
Why should book HUE – PHONG NHA CAVE 1 DAY TOUR from our companies?
– Our compay has 3 years experiences in organising tours 1 day in Hue and surroundings with professional guides.
– Our compy has high rate on Tripadvisor.
– Easy to purchase ticket, you can book online 1 day, 2 days or longer in advance if you go on Vietnam holiday time.
– Beside we have worked with a lot of tour compaies the whole years, so we always have available tours for you even you go on our holiday as long as you let us know before 48 hours (on holiday time).
– Flexible and convenient in payment, you can pay online by Visa, Master, American Express card (3% bank fee will be added), Paypal, Western Union.

– You can check all detail, useful information from our website: vietbeautytours.com before you decide to take the tour.
– We are free of charge you want to change departure date as long as we are informed 24 hours in advance by confirmation to you. Here is all information of our tour that you need to know.
SOME QUESTIONS AND ANSWERS ABOUT HUE – PHONG NHA CAVE 1 DAY TOUR:
A: Has the pubblic transfer from hotel in Hue to Phong Nha cave in Quang Binh province?
Q: No, it has not .
A: Can I book tour for private?
Q: Yes you can, but it is very expensive.
A: Can I book tour for single?
Q: Yes, you can because the tour is very flexible.
A: Can I visit Phong Nha from Hue?
Q: Yes, it is very easy, you can take tourist bus to Hue.
A: Can I visit Phong Nha cave from Da Nang?
Q: Yes, you can.
A: How far is it from Da Nang to Phong Nha cave?
Q: It is about 270 km.
A: How far is it from Hue to Phong Nha cave?
Q: It is about 170 km.
A: Can I do tour myself to Phong Nha in Quang Binh province?
Q: You can rent a motorbike and do tour yourself.
SOME MORE DETAIL INFROMATION ABOUT HUE – PHONG NHA CAVE 1 DAY TOUR:
1, Hien Luong bridge:
It is a bridge over Ben Hai River, Vĩnh Linh District, Quảng Trị Province, North Central Coast, Việt Nam. This bridge is located in 17th Parallel and in Vietnam War, it was bisected between South Vietnam and North Vietnam.
Source:Wikipedia.
2, Ben Hai river:
It is a river in central Vietnam which became an important landmark in the partition of the country into a northern and a southern zone along the 17th parallel by the Geneva Accords of 1954. The demilitarized zone (DMZ) separating the two parts extended about 5 kilometers from either side of the river .
Source:Wikipedia.
3, Khe Sanh Combat base:
It was a United States Marine Corps outpost south of the Vietnamese Demilitarized Zone (DMZ) used during the Vietnam War.
Source:Wikipedia.
4, Vinh Moc tunnels:
It is a tunnel complex in Quảng Trị, Vietnam. During the Vietnam War it was strategically located on the border of North Vietnam and South Vietnam. The tunnels were built to shelter people from the intense bombing of Son Trung and Son Ha communes in Vinh Linh county of Quảng Trị Province in the Vietnamese Demilitarized Zone.
Source:Wikipedia.
if you want to know more inforamtions about HUE – PHONG NHA CAVE 1 DAY TOUR please call and send email to us:
VIET BEAUTY TOUR
Add:no 5-Trạm-Co Linh Street –Long Biên-Hà Nội(under Vinh Tuy Bridge)
Telephone :0462541908 ,hotline:0969923384, viber: +84969923384.
Web:www.vietbeautytours.com, Mail:vietbeautytours01@gmail.